Fig. 11 below - So-called mosaic pattern on the leaves of an unidentified RRD infected Large Flowered Climber in fall.
The above picture is of RRD
Fig. 11b below - 'Love & Peace' ,a new introduction by Week's Roses, with Rose Mosaic Virus. RMV is the name of a disease while "mosaic" is a symptom. RMV is not the same as Rose Rosette!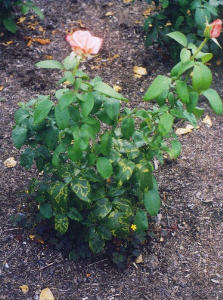 THE PICTURE ABOVE IS
NOT ROSE ROSETTE!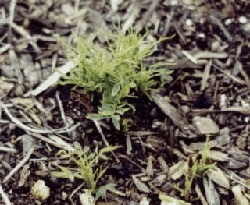 Fig.12 above- An RRD infected rose coming back. Yellow green subsized chlorotic leaves that look like a zinc deficiency coming up from remaining root segments. If RRD is seen on only one or two canes of a bush and diagnosed as zinc deficiency, one must ask why the entire bush isn't short of zinc or why other roses in the bed aren't also zinc deficient.